Finding cheap flights can be a time-consuming and overwhelming process, especially if you do it for the first time. However finding cheap flights is just as important as planning your trip and the places you want to visit. Searching for the best fares on the internet always starts with thorough research. That is why we put together our 25 best tips to make your life easier while looking for cheap flights.
According to us, the most important rule is, to know what to expect and to know what price you will be comfortable with. That is why we always start to look for air tickets on several different sites. And we are comparing and comparing and comparing. Until we have an idea what to expect.
The term cheap flights is hard to explain because every individual perceives the price from another perspective. So, what cheap flights are for you, can be a very expensive flights for someone else.
Remember, prices vary every minute, depending on how many seats in a plane are still available. The aim is to get a good fare, not the best fare. Waiting for the best price of all times can backfire on you because you might be looking for and waiting for too long. Until it is too late.
So, do your research, be aware of the average price and set up your own goals. What would be the good price for you? If you find that good price, just book it and be happy.
There is almost always a chance that price will drop even further after your purchase. But if you buy a ticket for a good price that you are comfortable with, then you meet your goal.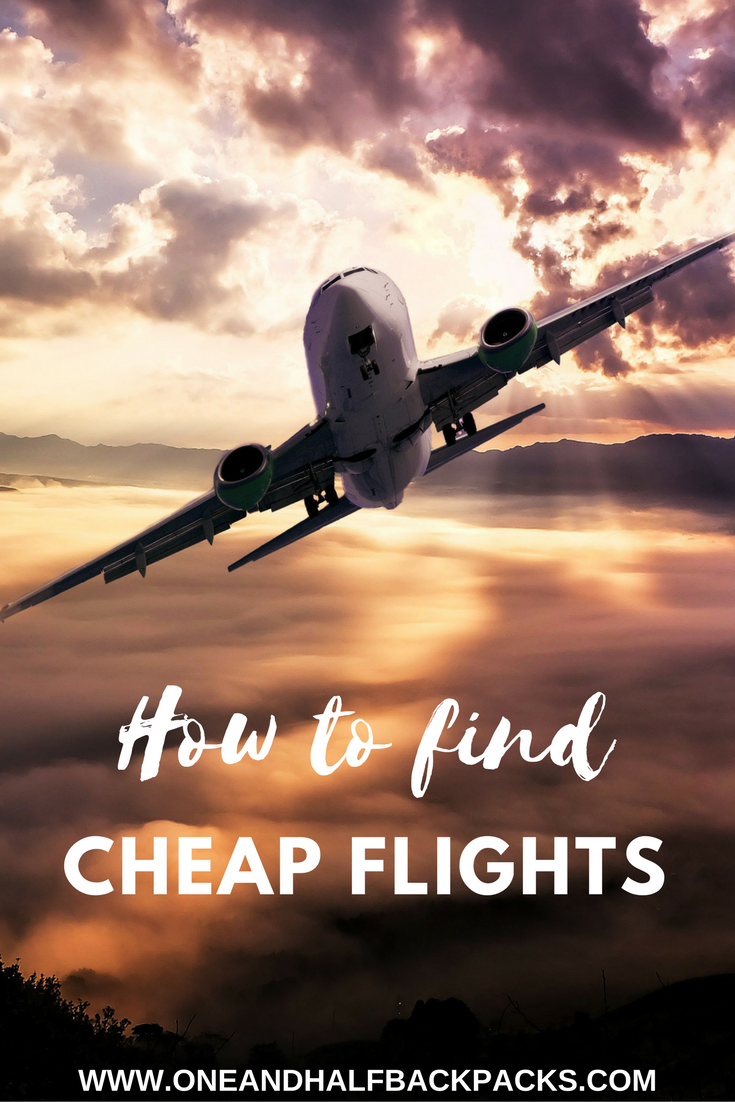 1.Sign up for airline´s newsletter
Do you have any airlines that you prefer to fly with? Subscribe to their newsletters to always know what deals are on. Or just sign up for the major airline´s email list that serves your country/city. Or sign up for all the budget airlines that exist. Overall, after signing up you will have an access to the news and special deals from airlines. That way you will be among the first ones that know about new cheap flights.
2.Follow airlines on social media
Nowadays, airlines often announce new deals and discounts on their social media accounts. So follow them to know about the new deals and cheap flights.
3.Airfare alerts
Did you know that you can sign up to track a particular flight route that you are interested in? It is very easy, yet powerful tool. Just put airfare alert on flight routes and you will receive an email every time the price change. It is very effective way to find cheap flights and save time because you do not have to search prices every single day. So, set up price alerts and wait for an email to inform you every time when the fares change.
4.Follow travel hacking sites
Follow sites that search mistake fares. Believe or not, mistake fares happen all the time. They occur mainly because of a human error or a currency conversation mishap.
Follow sites like Holiday Pirates, Airfarewatchdog, The Flight Deal or Secret Flying. Each day, these sites search through hundreds of flights and their aim is to find every mistake fare. You can subscribe to their email list, follow them on social media and stay on top of the news about mistake fares and cheap flights.
5.What do airlines serve your travel destination?
This strategy works best with some smaller airport, that is not served by hundreds of airlines. We always do our research, to find out what airlines serve the particular destination. Thanks to that we know what airlines to follow to score cheap flights. Research and sign up for those airlines newsletters.
6.Use ITA MATRIX and KIWI
Even though you can not buy air tickets through ITA MATRIX it is a great tool for many reasons. It allows you break down the price of the ticket, so you have an idea what you are paying for. It also allows you to search the flights. Even though ITA MATRIX searches just major airlines (no budget airlines), it has a calendar option so you can see the prices for the particular day. It gives you a good starting point for your searching as well as what prices you can expect. Once you choose your days, ITA MATRIX will show you the next best prices for flights and airline options.
KIWI has the same great feature, it allows you to see a calendar with prices for flight on every single day. So it is easier for you to choose the cheapest fares possible. Plus, you can find a very handy map on Kiwi, that allows you to see prices for flights on a given day to almost everywhere. Great tool, when you need and inspiration where to travel.
7.Search engines like Skyscanner, Kayak, Google Flights
Compare few different sites. We never use just one search engine, because none of them is 100% best. We always compare prices on at least three sites. Even though it is a time-consuming process, you should try to search as many flight search websites as possible. Some websites do not show budget airlines, coverage of the world also vary and most importantly, prices vary on different sites.
The best sites to start with are Momondo, Kayak, Skyscanner, Kiwi, Google Flights and Orbitz.
8.Is it necessary to use a plane?
An important question to ask, do you really need to travel by plane? Especially in Europe or Asia. Can you find a cheaper option? What about train or bus? It depends on the level of comfort you ask for yourself and time you have. However, using overland transportation can save you a lot of money.
9.Budget carriers
Unfortunately for budget travelers, a lot of budget airlines do not show in search engines like Skyscanner. Especially if you seek for a short flight between close countries, it might be worth of trying to find a budget carrier. Sometimes, budget carriers even serve long-haul routes. So if you are willing to sacrifice a little bit of comfort, you can travel on a budget even between the continents. You just need to watch additional fees. After all, that is how budget airlines make money. They charge a little on a fare but overcharge you on extra fees for checked luggage, meals and entertainment. For checking which airlines fly where visit the destination´s airport´s website and get a list of airlines that fly there.
10.Be flexible with your departure and arrival destination
Would you like to visit any destination but prices for flight are just too high? Have you tried to search different routes? How about to depart from a different airport? Or what about to fly to next country and make a rest of the route by bus/train? You would be surprised how prices for flights can change with different cities and airports. Especially in Europe. The price for the flight is not always based on how far you are flying. Some countries are just way more expensive than others, thanks to departure and arrival taxes.
Be flexible with your destination. Sometimes, it is cheaper to fly to the next country and take a short bus ride to your final destination. Or just arrive in another city at your final destination. Search engines like Kiwi will help you to achieve that.
Try to be more flexible with your departure and arrival destination. The more flexible you are, the more likely you will find the cheapest flights. As a first step, try nearby airports. Many countries have more than one airport and even many cities have more than one airport. Some airports are served by budget airlines, some are not. So do your research, it will pay off.
11.Be flexible with the airport
Some cities, especially big transport hubs like London have many airports. Some of them are more expensive than others. Try to fly to a smaller airport. Not all airports are served by budget airlines, so it is worth to try to look at nearby airports. Google Flights are great for searching regional fares and route options. It shows you a map with all nearby airports so you can see if you are able to find cheaper fares.
12.Try long hauls flights with stopovers
We personally love adding stopovers into our routes. It makes traveling far more interesting. Plus when you break down long-haul flight into small routes, it is even far more comfortable. On top of that, you get to see more places.
When you try to save as much money as possible, choosing the non-direct flight can save you some serious money. Why? Because most people hate long-haul flights and they try to do them as quickly as possible. People in general hate connecting flights. So choose the not direct flight and you are on a great road to save some money.
You can always try to include stopovers and break down the long flight. Try to stitch together separate flight through interesting destination. That way you can explore more cities and places. Plus you can also use local budget airlines. One way ticket from Prague to Hong Kong followed by a one-way ticket from Hong Kong to Sydney might be cheaper that one-way ticket from Prague to Sydney with or without stops.
13.Be flexible with your travel route
Sometimes it can be cheaper not to flight directly to your final destination but take a detour. Are you flying from Prague to London? Try to look for routes that are not that direct. It might be cheaper to fly from Prague to Amsterdam and then fly from Amsterdam to London. This applies mainly in the region where several budget airlines operate. The best tool to use is Google Flights. Find out how much it costs to fly directly to your destination and then open Google Flights and search for nearby options.
14.Avoid fees
Always keep in mind that airlines love fees. Especially budget carriers make their living on fees. So think ahead and plan how you want to travel. Always check how much money budget airlines charge for checked luggage, meals, carry-ons and so on. With fees add on, fares with budget carriers can sometimes be more expensive than with a traditional airline.
15.Be flexible with your travel dates
This is probably the biggest rule to keep in mind. One of the best advice, aim for the off-season. Would you like to know when is the best time to travel to your destination? Download our FREEBIE – Weather seasons around the world.
Knowing when to travel to a particular destination can reduce your travel costs significantly. Some places are in high demand in summer, others peak during the winter. You should also have a knowledge about rainy seasons. So, research a destination´s peak and off-season will save you a big amount of money.
Here are two issues that most of the travelers are confused about. There is no proof that would confirm that some particular day is better than other for buying airfares. However, a day of the week absolutely makes a difference when it comes to what day to fly. In general Tuesday, Wednesday and Saturday are usually the least expensive ones, with Sunday being the most expensive. But it depends, destination upon destination. Not every day is equal when it comes to flying. You can research through Kiwi or Google flights to find out which days are the cheapest for that particular city/place. Some days are sometimes cheaper because the volume of travelers on those days is lower.
Another advice – avoid holidays and special events. Prices for tickets can skyrocket before those special events. Moreover, if those events are world-renowned. Holidays or events, even in the middle of shoulder season are still considered as the peak time for traveling. Be mindful of where you are going and what is going on there. That way you can save some serious money.
16.Skyscanner – everywhere and the cheapest time
One of the best tools that we love to use. Especially if you are getting wanderlust and have no specific idea where to go. There are few approaches how to use this tool:
You know when to go, but do not know where – Just type the departure airport and instead of typing your arrival, type everywhere. Choose your dates and wait for the best deals to show up.
You know where but doesn´t matter when – Just type your departure and arrival airports and instead of choosing the specific dates, choose the whole month. Then choose the cheapest month. That way Skyscanner will show you the cheapest fares possible for your chosen destination.
You don´t know where and doesn´t matter when – Type your departure airport, type everywhere and choose the cheapest month to search for. And voilá – the cheapest fares possible will show up. Leave your imagination to choose your final destination.
17.Be flexible with time
Compare prices for flights during the night, early in the morning and during a day. Be flexible with your time, because there are differences between days and between times during the day. Try to find the least favorite day for the particular airline and the least favorite time to fly (usually during the night).
Even through the day, the peak times exist. Most people like to travel during the day because it is the most convenient time to travel. So check the prices for early morning or night departures. One example for all, flights to Bora Bora are sometimes cheaper later in the afternoon. The reason is simple. When you approach Bora Bora in a late afternoon it is more likely to be dark. So travelers on this flight more likely will not see Bora Bora from above which is not a view you want to miss. So if you are willing to sacrifice it, you are on the way to score cheap flights.
18.Mix the airlines
Sometimes you can find great deals when you look just for one-way flights. That way you can freely mix airlines and maybe find a special deal that would not otherwise appear. Maybe flight out with one airline and return with other. By mixing various airlines and special deals you can save a lot of money. This process can be time-consuming though because you have to work out several different routes and check multiple airlines. But it is worth of try.
19.Track the price after purchase
Even though we think that after you purchase the fare, you should forget about it and do not check the price again. There is one handy tool that can help you to track the price after you purchased tickets. But it works just with few airlines. It might be worth of trying if you fly with one of those companies.
Have you ever heard of Yapta? This website specializes in tracking fares, before and after you buy it. You can track the prices, get alerts about price changes but more importantly, you can sign up details about your flight on this website. And the website tracks the price of the ticket after you purchased it. Yapta claims that it helps you get a refund on the difference if the price of your flight goes down after you buy. But, it works with just a very few airlines. Only a few airlines have formal refund policies if the prices go down after you buy a ticket. It might be worth of shot to try it if your flight with one of those airlines.
20.If the price drop, ask for refund
Even though most of the airlines do not offer a refund, you never know until you ask. If the price drops significantly after your purchase, contact your airline about that issue. You might be offered a voucher or some discounts for future travel. This might only work if you book directly through the airline and not through search engines. Even though not a lot of airlines have a refund policy when the price goes down, you never know if you do not ask.
21.Can you use air pass?
Do you travel into an area where any air pass exist? If you plan to travel around some particular region it might be worth of try to book it through the pass. For example, AirAsia has a great pass for exploring Asia (AirAsia ASEAN Pass). If you seek to visit more islands in French Polynesia, Tahitian Air Pass will save you some serious money.
22.Look at the price again after 23 hours
In general, you have usually 24 hours to cancel your ticket with a full refund. So, take advantage of it and look at the fares one more time after 23 hours. If the price dropped significantly, just cancel your previous ticket and rebook it.
23.RTW tickets
Are you planning to travel for an extended time? Can you plan your travel through round-the-world ticket? It can be a convenient way to fly around the world. By purchasing a lot of tickets in a bunch in advance, can save you money on the total price of the ticket.
RTW tickets are basically the airline alliance passes. The two main airline alliances that sell these passes are Star Alliance and Oneworld. You buy a ticket from one airline and this ticket can be used with them and even their partners. An airline alliance is a partnership in which airlines share seats. The big disadvantage is that these RTW tickets usually do not include budget airlines. Even though these tickets come with a lot of rules and restrictions, they might work for you under certain conditions. The biggest condition is, that you do not plan to change your setup schedule. These tickets are not made to be changed. So if you plan to travel around the world and you are willing to stick with your schedule, these tickets can save you a lot of money.
24.Book at the right time
Did you know that even a time when you buy your tickets can affect the price you pay? The best research on this topic can be found on cheapair.com. This site did a massive research and found that there is, in fact, a Prime Booking Window, for getting the cheapest flights.
It is not always true, that earlier you buy, the cheapest you get. If you book your flight too early, it can be still very expensive as if you buy your tickets too late. According to their research, the best time to buy tickets depends on your departure, final destination, dates and more.
How early you should buy varies by the region you are traveling to:
 – Canada – 59 days in advance
 – Mexico – 61 days in advance
 – Central America – 61 days in advance
 – Carribean – 76 days in advance
 – South America – 81 days in advance
 – South Pacific – 89 days in advance
 – Asia – 90 days in advance
 – Europe – 99 days in advance
 – Africa – 119 days in advance
 – Middle East – 119 days in advance
Buying very early can be almost as costly as buying tickets too late. For any given flight, the actual best time to buy might vary, depending on the market, the time of year, the day of the week, and other factors.
25.Travel hacking
Travel hacking is about collecting frequent flier, credit card points, and airline miles to be able to redeem them for free flights. The idea behind travel hacking is to game the system and use reward programs to gain as much free points and miles as possible. And why did we include this tip as the last one?
Because we live in Europe and we have almost no access to any frequent flier system at all. We have almost no chance to collect miles and use credit cards to gain points and free miles.
Therefore we are no experts on this topic. But if you are looking for the really great source of information how to hack the reward travel system, visit Nomadic Matt. He is an absolute expert for hacking the flying system.
Conclusion
Know your price. Travelers tend to wait too long to buy or book way too early. A lot of travelers try to get the lowest fares possible and they get upset when prices go even further down after their purchase. But the truth is, there is nothing you can do about it.
Prices bounce up and down and there is no magic ball to help you forecast the fares. So the best thing you can do for yourself is to know what an average price for a flight is and try to book it for less. Do not wait for a price that might never come. Book it at your price. If the average price for your flight is $500, do not try to wait for $300. When you see the price you are comfortable with, just book it. And do not second guess yourself after you purchase it. Otherwise, you go crazy 😀 It is very usual that not two people pay the same price on the same flight. So all you can do is to hope that you get the price you like.