Do you think that exquisite place like French Polynesia is too pricey for you? That only millionaires can afford holidays on Bora Bora? We are here to prove you wrong. We believe that you can travel anywhere in the world on a budget if you have two necessary things:
TIME AND INFORMATION
Let´s reveal some secrets of how to travel to French Polynesia for as little cash as possible.
DO YOUR RESEARCH
The first thing you should do, when planning vacation in French Polynesia is to look for all the possible ways how to travel to your desired destination. Therefore you will need to do a little bit of research.
The two most important questions are: when and how?
When to travel to French Polynesia?
What season is the best for visiting French Polynesia? What months are also the cheapest ones? You need to combine answers to those two questions to find the best deal for you. In general, there is no right or wrong month for visiting French Polynesia. It has very consistent temperature through the whole year, around 27 degrees.
The two main seasons can be distinguished in French Polynesia – the dry and the humid season. Typically the dry season occurs from May to October with the humid season coming from November to April. As you can imagine, the dry season is the time, where the most tourists arrive. It affects prices for an accommodation, tours and air tickets, so if you want to stay on a budget you should avoid these months.
The humid season is typically the cheapest season to travel to French Polynesia, but it does not have to be as pleasant as you would love it to be. It rains often, sometimes just for a few hours, sometimes it can rain for days. Even that these months are the cheapest ones, we believe that you do not want to travel to French Polynesia to see just rain and no sun.
So what are the best months for visiting French Polynesia? The shoulder season. Typically in April, October, and November. In these months, prices usually drops, accommodation is cheaper and air tickets are usually discounted.
How to travel to French Polynesia?
FLIGHTS
The obvious choice of travel is a flight. Tahiti Airport is known as Fa´a´a International airport and it is actually the only international airport in French Polynesia. So it does not matter which country you are coming from, you will always have to fly to Tahiti airport first and then get additional transport to the inner islands.
Because Tahiti is such a popular destination, despite being pricey, you need to book your flight as soon as possible. Honeymooners and tourists traveling through agencies book out tickets and travel packages sooner than you think. We started to plan a trip to French Polynesia 8 months in advance. The key is to have the right information so you can track the best prices and deals. The key is to know where to watch for the best deals.
And here comes the trick.
Our tip # 1: It is always good to know what airlines serve the airport you are planning to go to. If you know the airlines, you need to watch them very closely. These airlines often offer discounts just on their websites, therefore they do not appear in the search engines like Skyscanner or Kayak. Sometimes, airlines offer special passes that you would not know about if you had not checked their website. This trick works the best with smaller airports, like Tahiti. There are just a few airlines that serve this airport. So it is fairly easy to follow their websites or social media, where the discounts often appear.
And because we want you to save time, here are airlines that serve Tahiti.
International airlines that serve Tahiti are Air New Zealand, Air Tahiti Nui, Aircalin, Hawaiian Airlines and LATAM Airlines.
The only domestic airline that serves inner islands is Air Tahiti. Air Tahiti also flights to Rarotonga on the Cook Islands. It is definitely worth to check this airline because they usually offer some pretty good prices for flights.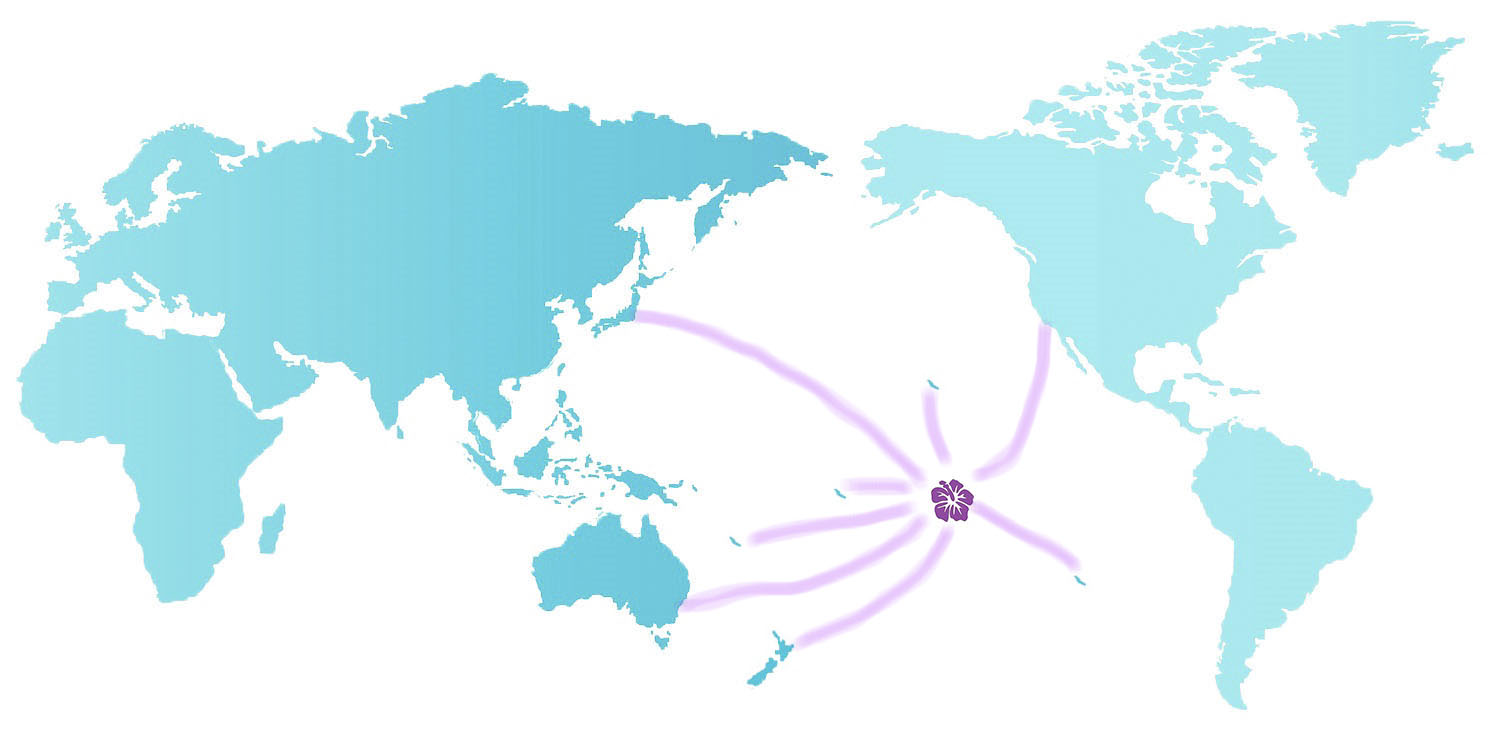 These are the airlines that you need to watch if you intend to visit French Polynesia.
Our tip #2: The best way to watch the prices, is to subscribe to the airline´s alerts. In that case, they will notify you every time they change the price or release new discounts. Also, if you are lucky to collect miles, check these airlines if you are allowed to use your miles to travel even cheaper.
The next step after knowing what airlines you should be following, do you research and check from what cities they fly to Tahiti. This is particularly important if you need to book other additional air tickets. If you do not live in cities that serve Tahiti directly, there is a pretty good chance you will need to book more flights to travel there. If you want to stay on a budget, you need to also find the cheapest way possible to travel into these gateways.
Here you have a list of cities that you can fly to Fa'a'a directly. So if you want to travel from Europe or another part of the world, watch the deals for air tickets into these gateways.
| | |
| --- | --- |
| AIRLINE | CITY |
| AIR NEW ZEALAND | AUCKLAND |
| AIR TAHITI | RAROTONGA |
| AIRCALIN | NOUMEA |
| AIR TAHITI NUI | LOS ANGELES, TOKYO-NARITA, AUCKLAND |
| HAWAIIAN AIRLINE | HONOLULU |
| LATAM AIRLINE | EASTER ISLAND |
The flights to French Polynesia are fairly regular, every airline flies in specific day and time.
AIRLINE
CITY
MON
TUE
WED
THU
FRI
SAT
SUN
AIR NZ
AUCKLAND
AIR TAHITI
RAROTONGA
AIRCALIN
NOUMEA
LATAM AIRLINE
EASTER I.
HAWAIIAN AIRLINE
HONOLULU
AIR TAHITI NUI
LOS ANGELES
TOKYO
AUCKLAND
There are also indirect flights to French Polynesia, mostly with Qantas from Australia, Air France from Europe, LATAM Airlines from Santiago de Chile. From Asia you can indirectly fly with Japan Airlines or Korean Air. Tahiti is also included as a stop on many round-the-world tickets.
Our tip #3: Compare prices on the airline´s websites with prices you can find on search engines like Skyscanner or Kayak. The prices very often vary. And not always the search engines find the best deals.
Our tip #4: Be thorough and compare prices of flights during day/night. It can make a big difference if you fly at night or early in the morning because these flights are usually the least popular ones.
Our tip #5: As much as we love Skyscanner, Kayak, and other search engines, there are times that we do not book flights with them. Especially, if we plan to travel to the smaller destinations, like Tahiti, it is better, according to us, book your flights directly with the airline.
Why?
Because when something happens, flights get canceled, delays, you can deal straight with the airlines that serve the destination, instead of trying to deal with the agent that you book your flight through. Airlines dealt with you differently if you booked your flights with an agent and not directly with them. Sometimes they cannot even change the details of the flight without contacting the agent. Which aside from being expensive might be a hassle to do from the middle of Pacific.
Our tip #6: Always check what you pay for. Especially on those flights rates often include just a carry-on luggage. Thus if you plan to travel with a bigger luggage, do not forget to compare prices with all extras included.
 
SAILS
Cruise
Your next option how to travel to French Polynesia is to sail. But it is not the cheapest option because you need to purchase a regular cruise, which in the most cases are very luxurious, therefore pricey. But if you do not care about money and you want to sparkle your travel, go for it. The best places to look for a cruise are obviously Australia, New Zealand or other Pacific islands around.
Cargo ship
You can also travel by a cargo ship, but again, it tends to be very expensive and slow. The average costs are $125 – $150 per day. If you are happy to pay for a trip on a cargo ship, you should do so far in advance. Passenger cabins are limited and most of them sell out quickly. The recommendation is to try to book your cargo adventure at least six months ahead, so you can secure a good cabin for yourself.
Boat hitchhiking
Hitchhiking a boat is far from being easy. We are not saying it is impossible, but it requires a lot of research and so much patience. Nowadays you cannot really exchange a free ride for a work on a board, as today's workers need to be trained for several years to be able to work on a cargo ship.
Yachts / sailboats
If cargo ships and cruises do not resonate with you, there is a third option. You can register on special websites and try to find yachts or sailboats on the routes you are looking for. French Polynesia is a very popular place to sail to, most of the yachts pass around anyway, so it is not that hard to find a boat which would suit your needs. Many yachts will take you as a part of a crew, so you can scrub a deck or peel the potatoes.
One of the best places to look for is Panama, a lot of boats depart from Panama and they head to French Polynesia or Australia. But again, traveling by boat can be very, very slow, it takes usually 55 days to sail from Panama to French Polynesia. Cargo ship can reach there in 2-3 weeks.
Would you like to travel to French Polynesia? Let us know in comments down below 🙂 Did you travel to French Polynesia and have more tips to share? Let´s us know your one tip for budget traveling around French Polynesia. Also, if you like the post, do not forget to share it and subscribe to our email newsletter for more tips and useful information 🙂