Have you ever dreamed about traveling to Bora Bora? However, you have stopped because you realized you are not a millionaire? Dream on, because it is definitely possible to visit French Polynesia on a budget. I mean not Southeast Asia budget, but still cheaper compared with prices from catalogs.
Also check The secret of how to travel to French Polynesia on a budget.
Bora Bora is usually not on a typical backpacker bucket list, because of its reputation for being a very overpriced destination. And it definitely is pricey if you do not put a lot of effort to dig some awesome ways how to save money and stay on a budget. That is why it was so tempting for us to travel there. We wanted to prove that even Bora Bora, one of the most exquisite places in the world,  can be visited without breaking your bank account.

Our goal is to always save as much money as possible on five things:
 – transportation to a destination
 – accommodation
 – food
 – getting around
 – activities
If you are able to save money on those, you are on a good way to stay on a budget the whole trip.
Transportation to Bora Bora
Once you are in Tahiti you have just two options how to travel to Bora Bora. Flights or sails.
Flights
The first choice is obviously to fly. The easiest and quickest way to get to Bora Bora from the main island is to fly. All inner flights are handled by Air Tahiti, a sister company of Air Tahiti Nui.  Air Tahiti is the only airline that flies to Bora Bora with multiple daily flights.
Because Bora Bora is such a popular place, there are no real flight discounts. Some travelers told us, that you can save some money asking at the airport to be on a waiting list, but it can take time. All flights were pretty much book out few weeks in advance.
But there is one cool thing to consider. The Island hopping pass from Air Tahiti. It is definitely the best way how to travel between inner islands and visit cheaply more than one island. Hopping pass that allows you to visit three islands cost just $60 more than a return ticket to Bora Bora.
You can choose from a lot of different options, depends on where you want to travel. Or you can simply put together your own trip around the islands. So, if you plan to visit more than two islands, we would definitely recommend checking Air Tahiti passes.
The other trick is to stay out of high season. High season on Bora Bora is considered to be from June to October and from December to the middle of January.
Our tip #1: If you have a chance, try to choose a flight during a day. You do not want to miss that spectacular view on Bora Bora from the air.
Our tip #2: All flight between islands have open seating, which means the first people to board the plane have the best choice of seats. Try to sit on the left side of the plane. You will have the best view on Huahine, Tahaa, and Raiatea plus an amazing view of Bora Bora itself.
Sails

You can travel to Bora Bora by ship from Papeete, but it is neither the quickest nor the most reliable and comfortable way to travel.
Aranui 3, which is more like a cruise vessel than a cargo ship sails to Marquesas islands, Gambier islands and Societe Islands on the way back to Papeete. To complete the whole cruise takes around two weeks. But the time schedule very much depends on weather and boat conditions. These ships have a pretty irregular schedule in terms of weeks not days. We would recommend traveling by boat only if you have enough time. If you planning to stay in the area for few months, you will be fine. Otherwise, we would recommend you to take a flight.
Aremiti vessel travels regularly between Papeete and Moorea, but keep irregular schedule into other islands, though. Time schedules into other islands are unpublic, so you will have to ask in Papeete´s dock about departing information.
If you plan to stay in French Polynesia for few months and you really want to explore even the most remote places, plus you are adventurous, travel by boat.
Also if anyone has better information about traveling by cargo vessel or boats in French Polynesia, let us know down below in comment section. We will appreciate it.
Our tip #3: This is definitely not for everyone, but a cool way how to travel around Pacific islands or French Polynesia is to become a part of a yacht crew. This way of travel is definitely for adventurous people, seeking for a thrill. You have to be super flexible, have enough time and do not get seasick as I do. But you can find a lot of websites that offer jobs on a yacht. Or they are just looking for an additional crew member that would help on a boat. You can discuss the conditions of becoming one of the members of a crew before sailing. That might be a pretty awesome way how to travel around Tahiti and Bora Bora. It is definitely not the usual type of holidays but very original way how to see French Polynesia differently.
Accommodation on Bora Bora
It was our biggest fear of all. Are we able to find a budget accommodation on Bora Bora? The answer is, hell YES. There are many options how to stay on budget, considering how tiny little island Bora Bora is. The key to finding good price deals is to forget websites like Agoda and Booking. You will find just the most expensive hotels on those servers. That is probably why most of the people think that Bora Bora is an unreachable dream for them.
But you actually have a few budget options to choose from:
– Family run pensions and guesthouses
– Airbnb
– Couchsurfing
If you travel on a budget, you should look for an accommodation on the main island. The surrounding motus are not really a budget friendly option for staying. These motus are owned by the biggest and the most luxuries hotels you can think of. So stay away from them.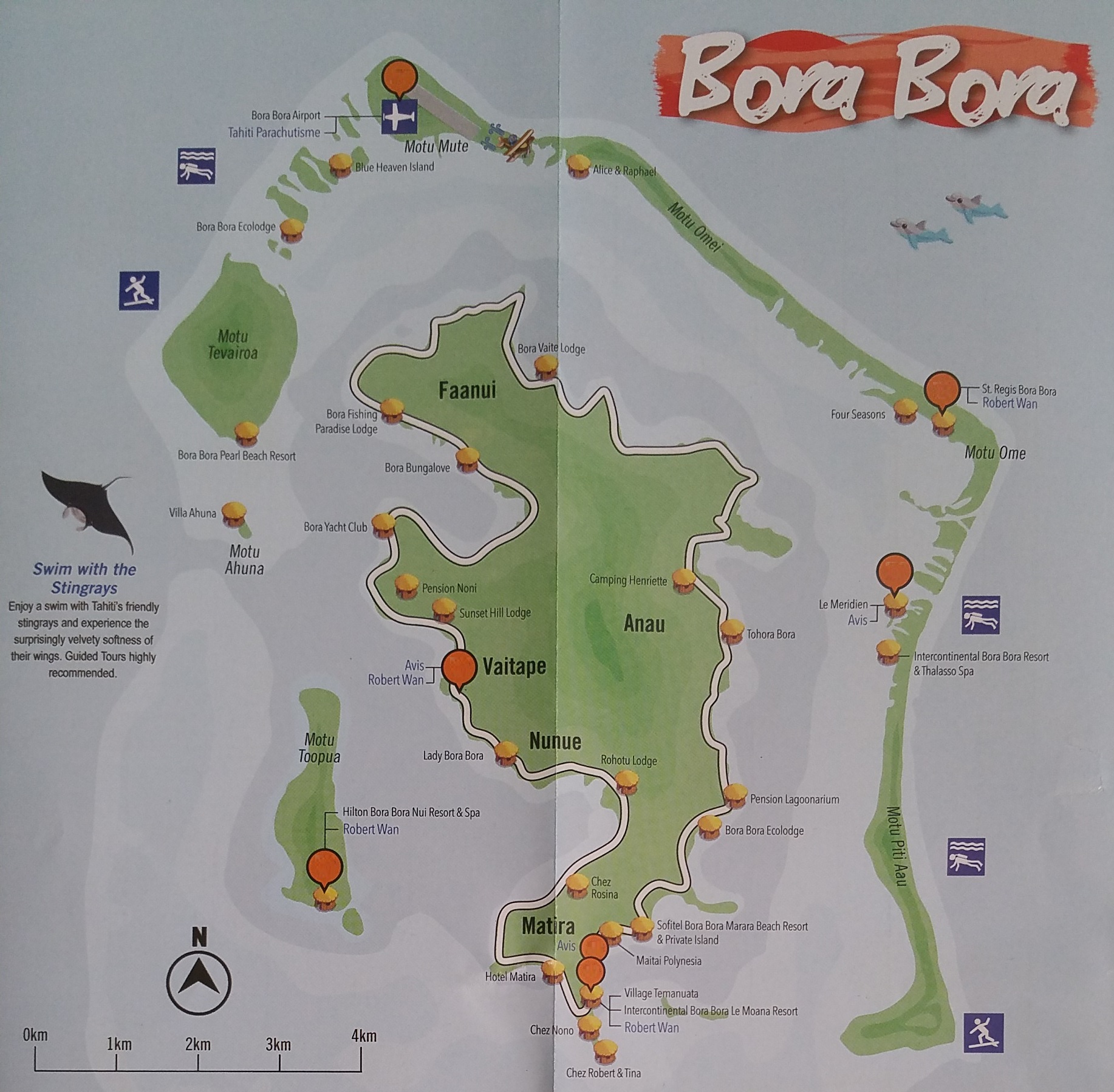 If you look on a map, you see that there is just one beach on the main island – Matira beach. It is located in the south part of the island, called Matira point. There are lots of pensions and family run guesthouses around that beach. That can perfectly combine your two goals. Saving money on accommodation as well as transportation. Staying close to Matira beach means, that you will not have to travel anywhere. If you do not want to of course.
Funny thing, there is an Intercontinental hotel, right opposite the Matira beach. One night there costs $750. And that is not even for an overwater bungalow. We were accommodated 200 meters from this hotel in a family run guesthouse for $85 a night. And the best part? We had the same access to the Matira beach and you can actually swim from Matira point to the Intercontinental. It is just under 300 meters swim.
I would be pretty upset to know that I paid $750 for one night and people next to me paid so much less for the same location. Yes, of course, services in 4* hotel would be much better, breakfast included and nicer hotel room…but still.
Matira beach and the surrounding area is considered to be the best part of mainland Bora Bora. The closer to the Matira beach, the higher the prices. If you really want to stay on a low budget, look for a place in the north part of the island. The chances are that rooms are going to be much cheaper there. However, staying in the north part of the island means you will probably need some kind of vehicle. Otherwise, it is going to be difficult for you to travel to the beach and Vaitape. So count with the additional costs.
Family-run guesthouses and pensions usually do not have any websites. And they do not appear on websites like Booking and Agoda, so you need to google and google. But they are findable. If you decide to make a reservation, use your email. The owners are usually reachable just by emails and they will answer you in few days. Be patient because time flies differently in French Polynesia. Also, most of the owners speak just French, but they are usually able to answer you in English.
Our tip #4: If you decide to stay in the guesthouses, have cash ready. These guesthouses usually do not accept credit cards. So remember to withdraw enough money.
Our tip #5: If you really want to go low on a budget, try camping on Bora Bora. It is a little bit of hassle when making a reservation, though. The campsite has a really old website, that has not been updated in years. But they have a Facebook profile and they will answer your questions in few days. However you can not make reservations through Facebook, so you need to secure your spot through a phone call. As I said, it is a hassle, but the night cost between $15-20. According to some reviews on travel sites, it is a really good place. You camp on a motu, surrounded by coconut palms, but there is very little information about it available elsewhere.
Before booking a hotel, try Airbnb. Some places are very affordable. Or be adventurous and rent a cabin on a yacht anchored in Bora Bora lagoon. Either way, contact your Airbnb host as soon as possible. Bora Bora is a popular destination and hosts are pretty quickly booked out. I contacted few of them four months before our trip, and they were all booked out…
You can even find few couchsurfers on Bora Bora, but their response rate is pretty low. We were not lucky to find anyone who would accommodate us, but you should definitely try them. Maybe you will be luckier.
Food
Eating in luxury restaurants and trying gourmet cuisine aside, the prices are not that bad for food on Bora Bora. Especially if you choose to eat like locals.
Small stands called snacks can be found around popular places, like Vaitape or Matira beach. These stands sell burgers, roasted chickens, pizzas or some kind of Tahitian Chinese infused take out dishes. Roulettes mean rolling food trucks and they can be found almost every night around these places. They usually provide tables and chairs for their customers, so you can enjoy your dinner for $10-15. Roulette Matira is a permanent roulette, right across the road from the entrance to Matira Point. They serve delicious food and also rent bikes and scooters. The menu includes fresh fish, seafood, and burgers.
As you circle the island, you will see a lot of private stands selling their own products, usually fruits or fresh fish. These products are pretty cheap and fresh. Buying those products you not only contribute to the locals, but you get the chance to know them better. If you speak French.
You can also find few supermarkets in Vaitape or around Matira point (Chin Lee, Tiare Market, and Super U). If you stay around Matira beach, you will find a small supermarket right on the main street. We did 99% of our shopping there. The prices were fairly reasonable and they were well stocked. Fresh baguettes every morning and a quite extensive supply of canned food, pasta, sauces, and processed meat.
The prices on Bora Bora were actually more affordable than we thought. Of course, relying on import food means you will have to pay more. Tahiti imports much of its food because they lack sufficient flat land for producing vegetables and meat.
Our tip #6: Shop locally. Forget the imported food and choose from options that can be found or caught around the island. You will save money and support locals.
Our tip #7: Choose an accommodation with the common kitchen area. Do your grocery shopping in a supermarket and prepare your own food. It is much cheaper than paying for a breakfast in a hotel.
But even if you decide to spoil yourself one night, you will find restaurants with prices that are not that bad. Restaurant Fare Manuia is just after the turn-off at Matira Point. It is open daily and offers wood-fired pizzas for $13. It has an awesome atmosphere and it is widely visited by locals.
Our tip #8: If you decide to visit a restaurant, it is wise to make a reservation. There are just a few options where to dine on the island of Bora Bora in contrast with a lot of tourists. Resorts and hotels always make reservations for their hosts, so be prepared. We did not know that and we just walked into a restaurant and took the last free table. Few couples that came just minutes after us, had to wait outside for about half an hour for a free table.
Getting around Bora Bora
The airport is located on a beautiful Motu Mute island, so it is only accessible by ferry. That means that to get to the island or to your resort, you will have to travel by boat. Air Tahiti offers passengers a free shuttle boat between the airport and the main island as a part of your flight. So collect your luggage and jump on a board. Relax and enjoy the breathtaking view as you sail to Vaitape, the main village on the island of Bora Bora.
If you stay in a luxury hotel, the resort will pick you up at the airport. But if you travel on a low budget you are expected to take a ferry to the main island.
Once you arrive at Vaitape, it depends on your agreement with your guesthouse. They might pick you up or you might need to travel to the final destination on your own. Most of the guesthouses will pick you up for around 500XPF. If you decide to travel on your own, it is definitely possible. Bus stops right next to the Information Centre which is next to a dock.
Our tip #9: Traveling by bus can be a little confusing on Bora Bora because there is no bus schedule. If you need help just visit the Information Centre, just across the street from the ferry dock. Staff will help you with everything you need.
You can choose from a few options how to get yourself around.
Taxi
Bora Bora operates few taxis, but like everywhere else in the world, it is possibly the most expensive way to get around. There are no taxis waiting on every corner like in Europe or Australia. So if you need one, you have to order one through a phone. Taxis are not metered, so always agree on a price before setting out. Be prepared to pay around $20 for a short ride from Vaitape to Matira point. The price for a ride from Vaitape to Anau village grows up to $70 dollars. There are also two types of fares, day fare and night fare which starts from 6 PM until 6 AM.
Water taxi
If you stay on a motu, you will need to use a water taxi in some point. Water taxis can take you almost everywhere around Bora Bora. But they are pricey. We did not take a ride because we did not need it. But as we asked around, the fares for 10 minutes ride start at $50-70 dollars.
Bus
The better way to get yourself around is to take a bus, known as Le truck. There is no regular scheduled public transportation system on Bora Bora. Buses run in conjunction with schools or a ferry and cruises hours. The usual bus fare from Vaitape to Matira point is 500 CFX (6 dollars).
Buses run in a circle, so every bus goes around the whole island. They are quite irregular, but if you see one, you can hail it down anywhere on the island.
Taking a bus is the most economical way to travel around the island. But you need to be patient and not in a rush. For instance, we would definitely not recommend you to wait for a bus before your flight. You can easily miss your ferry to the airport.
Renting
The selection is wide, you can rent a car, electric fun car, scooter or a bike on Bora Bora.
Cars
There are not many cars available for hire, therefore prices are high. Rates for a small car start at 9 500 XPF for 4 hours. Hire a car for a day can cost you around 11 900 XPF. Electric fun cars have just two seats, but rates are higher than for a standard car. Hiring those fun cars will cost you around 9 900 XPF for 4 hours or 13 900 XPF for a day. As a result, they are just above average backpacker budget.
But who needs a car on Bora Bora anyway? The island is pretty small. It is hot and humid there with practically just one road that circle the whole island, just under 35 km. So a scooter or a bike are definitely the better options for exploring the island.
If you insist on hiring a car, you can find several rental companies on the main island. Companies like Europcar, Avis, Bora Bora Tours or Fare Piti Rent have their offices in Vaitape. You should book your car as soon as you can because there are not many vehicles available for hire.
Scooters
Even scooters were much more expensive than we had expected. In comparison with Cook islands, where we hired a scooter for $60 per 5 days, on Bora Bora we paid $50 for 4 hours. The standard rate for a scooter is around 5 500 XPF for 4 hours. Renting a scooter for a day will cost you around 6 800 XPF.
The best place for renting cheaper scooters is Roullete Matira. The owner has few scooters and bikes for rent and he is pretty flexible with renting hours. You can rent a scooter/bike for few hours or few days.
Bikes
If you do not want to travel by bus or walk, then bikes are the cheapest way how to get around Bora Bora. The road circles the whole island, it is fairly flat, and under 35 km.
Many resorts and even guesthouses and pensions rent bikes. But sometimes it is cheaper to rent them outside of hotels or pensions. Prices usually start at 2 000 XPF a day, which is pretty affordable. Again, we found the best prices in Roulette Matira.
Our tip #10: Have a plan of what you are planning to visit on the island. It might be cheaper to take a few rides by taxi than to rent a car or scooter for a day.
Do not want to ride a bike around the island? Hire a kayak.
Kayaks
If you think traveling around the island on the road is boring, hire a kayak. It is an ideal way for exploring the lagoon on a budget. Water is calm and except few boats, you should be safe. There are few places around Matira beach that offer kayaks for rent. You can choose from renting for a few hours or a day or more. But you are better to ask in your guesthouse first. They might have few kayaks for their guests for free or for a small fee.
Boat
Do you travel on a higher budget? You can rent a boat on Bora Bora. The only requirement is a minimum rental age and knowledge how to operate a boat. In accordance with the French laws, a boat license is requested to drive any boat above 6hp. But you can hire 6hp boats without any license.
Activities
You do not have to spend thousands of dollars to enjoy your time on Bora Bora. Our recommendation – DIY. It is definitely the way to go for saving money on your Bora Bora vacation.
You can choose from an extensive offer of activities like riding a jet ski, skydiving or 4WD drive tour. Unfortunately, some of those fancy activities start at $500 per person. So they are way off any backpacker budget. In fact, you do not need them. You are on Bora Bora, the most amazing place on Earth, do you really need to ride a jet ski to have a better time? I doubt it.
So, back to DIY. Almost every guesthouse, pension or hotel offer kayaks for their guests. Some of those are even for free. So, instead of spending hundreds of dollars for a tour, rent a kayak and explore the lagoon by yourself.
Almost every lagoon tour on Bora Bora includes a visit to Coral Garden. But you can kayak there by yourself. It is just few hundred meters from Matira point. So take a kayak and go explore the breathtaking lagoon by yourself. The biggest advantage – you do not have to follow someone else´s schedule. Just paddle to the spot and snorkel for as long as you want.
Our tip #11: Did you know that tours just offer limited time for snorkeling around Coral Garden? When you hire a kayak you can observe the busiest time and paddle there when no tour with tourists is around. Plus you can spend as much time as you wish there and enjoy the Coral Garden with no one else around.
Many tours offer snorkeling around the lagoon of Bora Bora, just for few hundred dollars. Why would you want to pay it? You can snorkel for free everywhere you want. Again, grab a kayak, paddle few meters offshore and you can snorkel for free.
Would you like to see Tahitian dances? No problem, Intercontinental and Four Seasons have Tahitian dance night twice a week. Just ask at the hotel receptions and book your seats. You can pay for a dinner and enjoy your night with a feast. Or you can just sit at a bar, have one drink and enjoy your night on a budget.
Cool tip #12: If you travel to Bora Bora through Moorea we have a cool tip for you. Find those little shops at Moorea airport, which sells tours on Bora Bora. They offer great discounts. Yeeeey. So you can book your tours ahead and secure your spot not to mention save money.
Would you like to travel to Bora Bora? Let us know in comments down below 🙂 Did you travel to Bora Bora and have more tips to share? Let´s us know your one tip for traveling around Bora Bora on a budget. Also, if you like the post, do not forget to share it and subscribe to our email newsletter for more tips and useful information 🙂