The first time for everything is always the most exciting one, right? However, choosing a perfect vehicle for your road trip around Australia for the first time can be little overwhelming. RVs? Motorhomes? Campervans? Trailers? What do these names mean? Which one is better?
What type of vehicle should you choose for your epic Australian adventure? How to choose a vehicle for road trip around Australia?
We spent three months deciding, comparing and researching how to travel around Australia in order to choose the best vehicle for our road trip around Australia. Just for you now, we gathered all information together so you can save time and plan your road trip instead.
What is what?
Words like motorhomes, campers, station wagons, campervans, and RVs are all used to describe different vehicles that are available for hire. An RV, in other words, recreational vehicle, or camper are just generic terms for vehicles with special fittings adapted for camping. Motorhome, campervans and station wagons are types of RVs that are different in sizes and features.
What to choose for a road trip around Australia?
The trick when deciding what type of vehicle is right for you is to understand your budget, have an idea of where you plan to travel, for how long and how many people will be traveling with you. Basically, you can choose from following options:
 – Standard car and sleeping in a tent
 – Car with a roof tent
 – Motorhome
 – Campervans
 – 4WD
 – Trailers
So, what vehicle should you choose for your road trip around Australia? Let´s look at your options closely.
 1. Standard car and sleeping in a tent
As much as we love camping and sleeping in a tent, we did not choose this option for a road trip around Australia. And we had a few reasons why:
If you already own a car, traveling around Australia, of course, can be much cheaper than hiring a campervan. But it also depends on where are you going to travel. If it rains, and trust me in some part of Australia it rains a lot, it is not comfortable to set up the tent every day/night as well as wrapping up a wet tent into a car.
Additionally, we like to drive until almost complete dark, which makes setting up a tent very difficult. Also, sleeping in a tent in the northern parts of Australia does not feel very safe because of the famous inhabitants, crocodiles. Moreover, it is not always easy to find a good soil to pitch a tent.
Last but not least, sleeping in a car at the places where no one was around just felt safer overall.
If you were thinking about hiring a car for your road trip around Australia, it makes more sense to book a campervan anyway. The rates for a car and a campervan are pretty comparable. Campervan might be even cheaper and it provides a much more comfortable way of traveling. It also comes with all the additional features and equipment like fridge, awning extensions, kitchen equipment, water tank and gas stove.
However, if you plan to travel with more people, hiring a car and sleeping in a tent can leverage your daily costs easily.
Average daily rate: $25 plus insurance
 2. Cars with a roof tent
Roof top tents are getting more and more attention nowadays. The tent is usually securely attached to the rack on the roof and when needed, it can be deployed instantly. After unfolding a tent, you gain access to the tent by lowering a ladder.
Sleeping in a roof tent has few indisputable advantages. You sleep off the ground, so you do not have to worry that much about crawling creepy animals. The roof tent can be set up easily and quickly. So you do not have to spend time with finding a good soil to pitch your tent and setting up the classic tent.
Also, mattress, pillows, and blankets can be stored inside a tent when folded up, which saves a lot of space in the car. Additionally, and this is very convenient for some, you do not have to clean your vehicle every night before going to sleep.
We were actually looking for a car with a roof tent for us for a road trip around Australia too. But after a while, we changed our minds, because roof tents can easily add the weight to the car, which means higher fuel consumption. Also when it is really windy, roof tents do not always feel secure. Plus daily rate for those cars is much higher than for standard campervans because roof tents are usually fitted onto 4WDs.
Average daily rate: $250 plus insurance
 3. Motorhomes
Motorhomes come in different classes depending on their sizes and interior equipment. In general, motorhomes offer the most interior space and luxurious features. Storage space can also stock a lot of supplies. They are equipped with a living room, kitchen, bathroom and they come with an extra storage space. It is not called motorhome for anything, it actually looks like your-home-away-from-home. They are completely self-contained and can fit up to six people.
Yet, their size is often intimidating. Their length can be over 7,5 meters, which makes them hard to maneuver, especially on mountain roads. Also, parking in cities, underground parking lots or restrictive camping sites may prove to be a hassle. Additionally, after setting up a motorhome, it is difficult to get yourself around. That is why most of the travelers, also tow another smaller vehicle with them. It is just simpler to set up the motorhome and use a smaller vehicle for day trips, grocery shoppings or other necessary driving.
There is no doubt that motorhomes can add a luxurious sparkle to camping. However, the initial hiring costs, insurance, and fuel consumption are astronomically high. That is why they are off any backpackers budget. The daily rates start at $250 without an insurance.
Advantages:
– A lot of living and storage space
– Usually fully self-contained
– A lot of luxurious features to choose from
– Fit up to six people, ideal for a family with kids
Disadvantages:
– Way off any backpacker budget, expensive to hire, maintain, insure and operate
– Can be intimidating to drive, size of the motorhome is very often very inconvenient
– You will need another car for your day trips, grocery shopping etc.
– Hard to park in cities, underground parking lots and even in some camping sites
These motorhomes are usually very popular among Australian retirees, families with kids and long haul travelers.
Average daily rate: $220 plus insurance
 4. Campervans
Campervans are part of a motorhome family, but they are much smaller and more economical to operate and maintain. They are very often built on a standard full-sized van chassis. Sometimes they might even come with a roof tent to save some space inside the campervan. These vans are customized to include temporary sleeping and eating facilities.
Campervan usually refers to a smaller van, two to three berth vehicle. Thanks to their smaller size, they are easier to maneuver, park and drive. It is also easier to take them for a day trip or to run errands. Travelers have often access to a refrigerator, sink, air conditioning and some of them might even have shower or toilet. These are much cheaper to hire, insure and they are much economical to operate. Check also Top 10 tips you should know before booking a campervan.
With a campervan, your accommodation is already sorted. Also, most campervans have kitchenettes and gas stove, so you can easily prepare your own food and keep your costs down. Most of the campervans come with some kind of kitchen table or kitchen area so you can easily prepare your food. So there is no need to eat out if you travel on a budget. This can save you so much money because Australia is not cheap when it comes to eating in restaurants. Plus many campsites around Australia have barbecues, that are free for public use.
The campervan is a general name for smaller vans that are adapted for traveling and camping. You have a lot of options to choose from, from small cars to big vans.
Station wagon
These cars are just standard cars that have been changed inside to fit the bed or at least a mattress in the back of the wagon. They are perfect for travelers on a tight budget, who plan to mix it up between camping, sleeping in a wagon and staying in hostels. These cars are the cheapest option to hire, the daily rate starts at $35 a day plus insurance. Perfect way for people who are not planning to travel for a really long time, because the storage space is limited and there is usually no equipment inside, like a fridge.
Average daily rate: $35 plus insurance
Standard campervans
These vans are of course bigger than station wagons which mean more space for you. Perfect for a couple or maximum of three people. If you plan to travel for a long period of time, campervan will be the great vehicle for you. They are usually pretty easy to drive if you are comfortable with driving a van.
Campervans are usually more expensive than station wagons, the daily rate starts at $45 a day, plus insurance. But if you plan ahead and book your campervan early enough, you can receive an early booking discount. Also, the campervan is far better equipped. The standard fitting includes fridge, kitchen sink with kitchen facilities, gas stove, water tanks and bigger storage space for your backpacks.
Average daily rate: $50 plus insurance
Small campervans
These campervans are even smaller than vans. They combine the advantages of station wagons and vans.  In Australia, it is usually a brand Toyota Tarago/Estima, that serves to these purposes.
A bed is fitted into the back of the car, but unlike station wagon, there is more storage space in a small campervan. They are well equipped, fridge, gas stove, kitchen equipment, water tanks and lockable storage space. Some of them might even have a kitchen sink.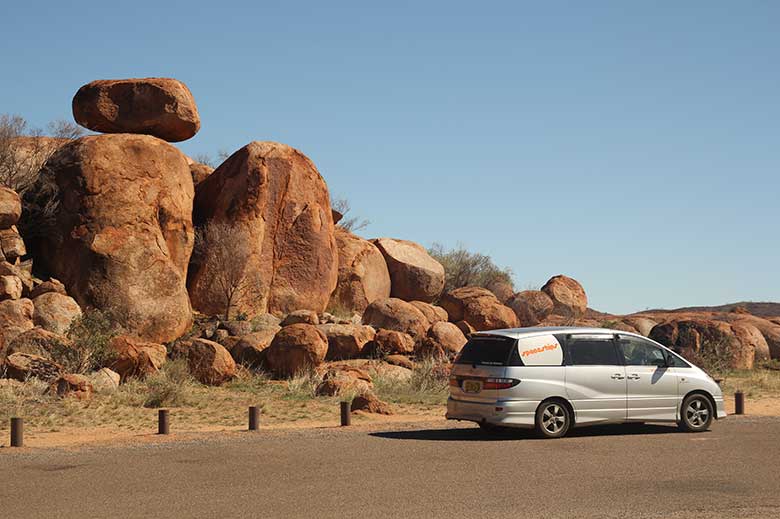 This small van was the vehicle of our choice because we loved everything about it:
 – it has fuel consumption as a regular car
 – it is easier to maneuver and park
 – if you plan to use ferry while traveling, ferry crossing might be much cheaper in a small size campervan
 – a good compromise between a van and station wagon with enough storage space
 – it does not scream that much that we are travelers, some of these campervans have almost no advertisement on the car whatsoever
 – because it has a size of a regular car, you are allowed to park in an underground parking lots or cities/towns, just like you would with your regular car.
 – you still have one or two seats free for hitchhikers or someone else to share the daily rate
Average daily rate: $40 plus insurance
 5. 4WD
Without a doubt, the best car for road trip around Australia was and always will be and off-road car, or 4WD. Australia, more than any other country in the world, is the queen of unsealed roads. Unfortunately hiring cost are high. The daily rate starts at $150 a day plus insurance. And there is a catch – the insurance usually comes with an excess. Not many rental companies will allow you drive their off-road car without any liability, so even with an insurance, you are still responsible to some extent for any car damage.
These cars are expensive to hire, buy and run – the average fuel consumption is higher, around 17l per 100 km. However, if you plan an epic Australian adventure and you want to include some awesome unsealed roads – go for it. These are perfect for travelers who are looking to head off the beaten tracks and for those who want to explore remote parts of Australia.
However, driving in Australia, in general, is not easy and it is definitely not easier to drive an off-road car on unsealed road. People hiring these cars should be well-prepared and confident in driving. They should be very familiar with driving conditions in remote areas and on unsealed roads.
Average daily rate: $200 plus insurance
6. Trailers
A trailer is usually defined as an unpowered wagon drawn by a truck or a car. These are particularly popular in Australia but they are not really suitable for backpackers and travelers for many reasons.
The first and probably the most obvious reason is that you need a car that is able to tow the trailer. Not every car has enough horsepower to tow it. You can choose from a wide range of trailers, from a simple tent trailer to very luxurious and massive almost-looking-like-homes trailers. However, bigger the trailer, more difficult the driving and more requirements for the towing car.
There is a limit to the weight a vehicle can pull and that is the strength of the engine and transmission of the vehicle. Also, you need to remember that bigger the trailer, the stronger the rear suspension of the vehicle needs to be. A typical travel trailer can be usually handled by large SUV or pickup trucks, but if you are thinking about purchasing a bigger trailer, you will need some pretty duty tow vehicle.
Pulling a trailer is like pulling a small building behind your car, so it means your fuel consumption will raise. However, it is easier to move around after you set trailer down. You can unhook the vehicle and get around easily without the necessity of towing a trailer or fit with a huge motorhome.
Average daily rate: $150 plus insurance
Have you ever traveled around Australia? What vehicle did you choose for your road trip around Australia? Let us know in comments down below. Also, if you like the post, do not forget to subscribe to our newsletter and share the post on social media 🙂